At Alexandra Dental practice, we believe that restoring missing teeth is a great way to improve confidence and self-esteem. Our implant dentistry expertise can and will get you smiling again.
Dental implants are a restorative treatment for people missing one or more teeth. In extreme cases, implants can act as a complete jaw replacement solution using All On 4 Implants.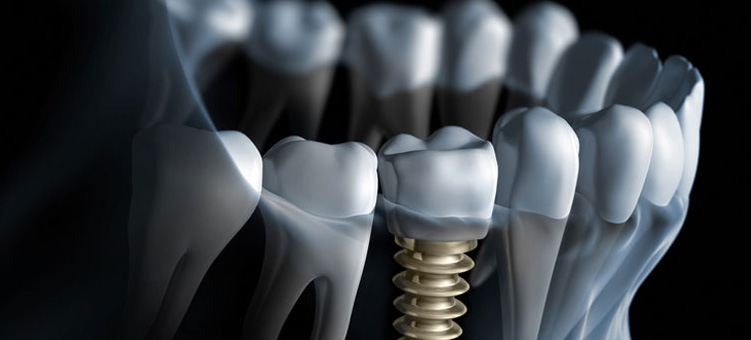 highest quality
Implants are natural in appearance, strong and, most importantly, can last a lifetime when cared for properly.
Alexandra Dental provides a range of dental implant solutions to suit your needs in house. We pride ourselves on getting our patients smiling confidently with a full set of natural teeth and aesthetically pleasing, functional implants.
What is a dental implant?
When your tooth is infected/broken or unrestorable it will need to be removed. It is carefully removed by our dentists to preserve the surrounding bone.
A titanium screw is then embedded into the jaw bone and eventually – due to this metal's bonding properties –is integrated into the bone. This builds a solid foundation for a crown or prosthetic tooth to be screwed or cemented onto it.
Once placed, the titanium implant needs time to heal and while it does so, you will be provided with a temporary set of artificial teeth. Average healing times can range from 2-3 months to 6 months. This will be advised to you before the placement of the implant.
When the healing process is complete, you will be fitted with your permanent replacement tooth or teeth. These will be natural in appearance and colour-matched to your natural teeth.
Depending on the extent of tooth loss, we can provide a range of implant options.
Single Dental implant
When only one tooth is lost and the adjacent teeth are healthy and unrestored the dental implant is now considered the gold standard for replacing the gap. This is because the adjacent teeth do not require adjustment or treatment meaning they are preserved. This is in conjunction with current Minimally Invasive Treatments.
Dental Implant Bridge
Where the gap spans 2-3 teeth a dental implant bridge may require suitable. This is where an implant is placed at either end of the gap, allowed to heal and anchor to the bone. Once anchored the crowns/bridge is made to connect the 2 implants and thus restoring the gap.
These options are suitable for patients who are unable to tolerate dentures and still have some of their natural teeth present.
All on 4 Implants Hertfordshire
This treatment is used for patients who no longer want to wear dentures that can move or slip out of place.
With All on 4, several titanium screws are placed into the jaw bone at one time. These act as the base for a permanent prosthesis that can replace an entire row of missing teeth and is screwed or cemented into place.
For some patients, this treatment can be completed in just one visit to Alexandra Dental.
Patients who have undergone this treatment have reported a huge improvement in their quality of life, confidence, smile and self-esteem as they no longer have to be conscious about their denture being stable.
All on 2
This implant treatment is recommended for the lower jaw. Two implants are used to hold a denture in place and are connected by a metal bar or clips. Although you may still be wearing a denture the clips/bar vastly improves the stability and fit of the denture, preventing it from rocking and moving.
This is the European Guideline recommended treatment for denture wearers.
Implant treatment
When you visit Alexandra Dental, we will first assess whether or not you are suitable for dental implant treatment. This will be done through an examination, x-rays and in some cases, CT scans will be required to evaluate the jaw bone.
Ideally, a dental implant should be placed as soon as a tooth is removed or lost. This is to ensure the jaw bone is preserved and does not deteriorate.
If it is not possible to embed the implant straight away, you may require socket preservation treatment. This helps to maintain the jaw bone and reduce any potential atrophy.
Socket preservation enables an implant to be placed at a later date and prevents the need for further treatment.
Your Alexandra Dental practitioner will advise you on the best course of action prior to your implant treatment.
If our planning suggests we are lacking enough bone height/width then bone grafting procedures will be recommended to you. This could be in the form of 'sinus lift', bone graft, or bone block graft. Most of the time this will be carried out at the same time as the implant placement. Throughout the procedure, you will be under anaesthetic and will not feel anything from the treatment.
Post Implant Advice
If you have recently had an implant placed who may have some discomfort immediately after the anaesthetic wears off. This is likened to no more than a small bruise and is manageable with painkillers, Paracetamol or Ibuprofen. After 2-3 days some patients report the discomfort completely subsiding and have no problems after this.
If you have embarked on All-on 4 treatment then we recommend a soft diet initially (5-7 days) as you will have a new set of teeth fixed in and it will take time for your mouth to settle and find a comfortable position for eating.
Maintenance
Once your implants have been fitted, it is essential to maintain a good oral hygiene routine to ensure they last for as long as possible.
Your dentist at Alexandra Dental will advise you on how best to care for the new implants. This will include brushing and flossing twice daily around the implant, regular visits to the hygienist and dentist every three to six months as well as an implant review visit after the first year.
If you feel you may benefit from our implant dentistry expertise, please contact us for more information or to arrange a consultation on 01442 256335.
All our implant treatments are available on our finance plans with 0% over 12 months.